OLSH / REBRAND + REPOSITION
An amazing process. From focus groups to internal data, to positioning paper, to website, prospectus and styleguie. The OLSH rebrand and reposition was a success and continues to be as the roll out continues. Through research OLSH is now better placed to understand and articulate their unique positioning... OLSH, for all girls. With OLSH, traditionally being a school community made up of many ethnicities as well as being a girls only school it seemed fitting to better communicate this wonderful inclusive and caring learning environment. The positioning statement really does sum up OLSH to a "T"... for all girls.
OLSH / REBRAND + REPOSITION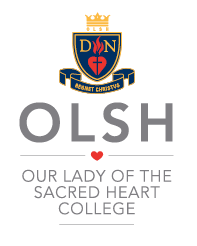 ---

We developed the use of the "heart" as a key brand motif. It garners its appropriatenes from the name of the school's as well as OLSH who not only educate the head, but more importantly the heart. As they say, "a heartfelt schoo" which cares for "All Girls". The heart motif manifest itself as part of the new logo type with crest, but too with how we lay the body copy out in the shape of a heart. This not only reinforces the key aspect of OLSH, but also is very sympathetic to the female audience. The deliberate bold use of red as a core brand colour is to communicate the OLSH history as well as the boldness their girls exemplify. They educate bold girls.

The brand proposition is a school for "All Girls". For girls who are bold, or sporty to girls who are scientific or mathematical. Girls who are old to Australia or brand new. OLSH is for girls who are muslim or catholic. OLSH caters for, "All Girls". What an amazing message which brings a sense of happiness and balance to the heart. What a great school. We love OLSH!